Neuro-Muscular Therapy
Our experienced therapists employ a variety of therapeutic interventions for patients with neurological-muscular disorders. Comprehensive therapy plans for patients with Multiple Sclerosis (MS), Parkinson's disease, Guillain-Barre Syndrome and other related disorders aim to improve activities of daily living, functional mobility and ambulation.
Individualized rehab programs are a multi-disciplinary effort, geared toward maintaining a quality of life and the management of physical, emotional and behavioral changes associated with neurological-muscular disorders.
Communication skills re-training
Activities of Daily living training
Balance, gait and mobility training
Range-of-motion exercises
Strength training
Swallowing management
Alternative nutrition management
Psychological counseling
Family support and teaching
Our 65 bed Alzheimer & dementia realted unit was created in 1993 to meet the skilled care needs of individuals with Alzheimer's Disease and related dementias. The Unit is secure and residents are encouraged to walk in a safe and protected environment.
Specialty Training and our unique Alzheimer Program
Caring for individuals with dementia requires skill and expertise in understanding the disease process. Our consistent core of caregivers have been trained under the auspices of a renowned cognitive care specialist and in conjunction with the dementia care training practices of the Alzheimer's Association.   The development of our Alzheimer program promotes "person centered care" – a unique approach to the way we deliver Alzheimer's care.   This approach to care starts with knowing our residents and connecting to them as individuals.
Life-Enhancement Programs
Therapeutic recreational activities such as art, cooking, gardening and hand massage stimulate the senses and provide a sense of self-worth.
Customized dining enhances our program with a focus on hydration and nutrition.  Fresh, appetizing cuisine is presented in an eye appealing manner to stimulate the appetite.  Our nutritionally balanced meals are also available for patients who require pureed, ground or mechanically altered diets.
Media enhanced memory activities such as music, radio, television and various word games can help to facilitate a resident's long-term memory.
Gardening and seasonal outdoor activities can engage all senses and help patients rediscover their world.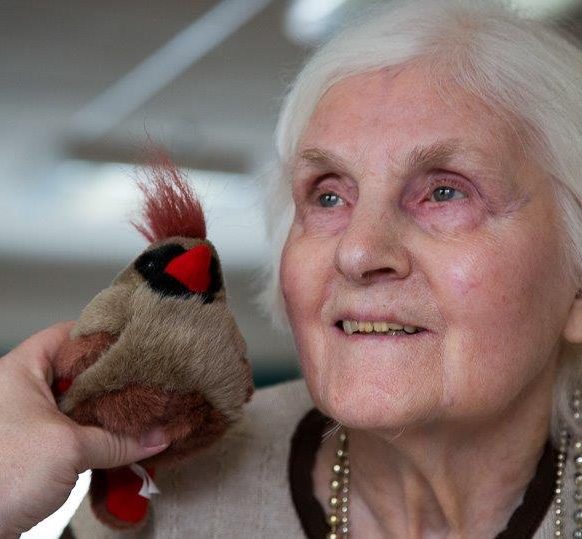 We Value our Partnership with Families and Loved Ones
As a family member, caring for a loved one with Alzheimer's Disease can be an emotional journey, but the partnership that we have with you can make the biggest difference in your loved one's quality of life.  Creating ways to meaningfully engage your loved one can reap unexpected rewards. Your input and participation in your loved one's daily routine helps to strengthen our partnership through trust and support.